Rafting Tour
PHEY - NIMO ROUTE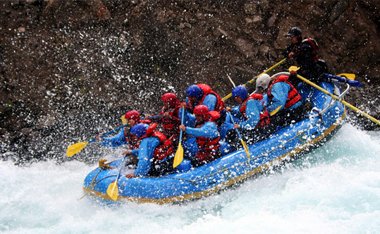 This route consist mostly of Grade II or III easy rapids is that it passes through astoundingly beautiful mountains, many of them with tiny hamlets and imposing old monasteries nestling among the valleys. Starting from Phey Village, about 12 Kms from Leh and ends Indus-Zanskar confluence at Nimo, about 36 kms from Leh.

Upshi - Kharu route.

This route is somewhat long as compare to the Phey-Nimo, but not too difficult. The stretch between Upshi and Kharu consists of I and II rapids, although there are some grade III rapids too. The starting point is at Upshi, about 90 Kms South east of Leh, along the road which leads to Manali. From Upshi, the river makes its way westwards to Kharu, along the road to Leh.
PHEY - SASPOL
This rafting trip starts from Phey, about 12 kms south of Leh and it end at Saspol, on Leh-Srinagar Highway, near Alchi. This route is short and relaxed enough to enjoy the breathtaking view of landscapes and beauty of tiny hamlets on the both side of Indus.
KHARU - SPITUK
It starts from Kharo, about 45 Kms South-East of Leh and ends at Spituk, just short of Leh. This route is specially recommended for the beginners and amateurs.
SASPOL - KHALTSEY
If you are experienced rafters, you may try the more challenging route between Saspol and Khaltsey, which has kilometre long series of rapids at Nurla. The rafting will finish at Khaltsey 90 Kilometres from Leh.